The MGA market is characterised by nimble, entrepreneurial businesses looking for strong and sustainable growth – and despite the current challenges we all face, the pipeline for new business and deals is buzzing.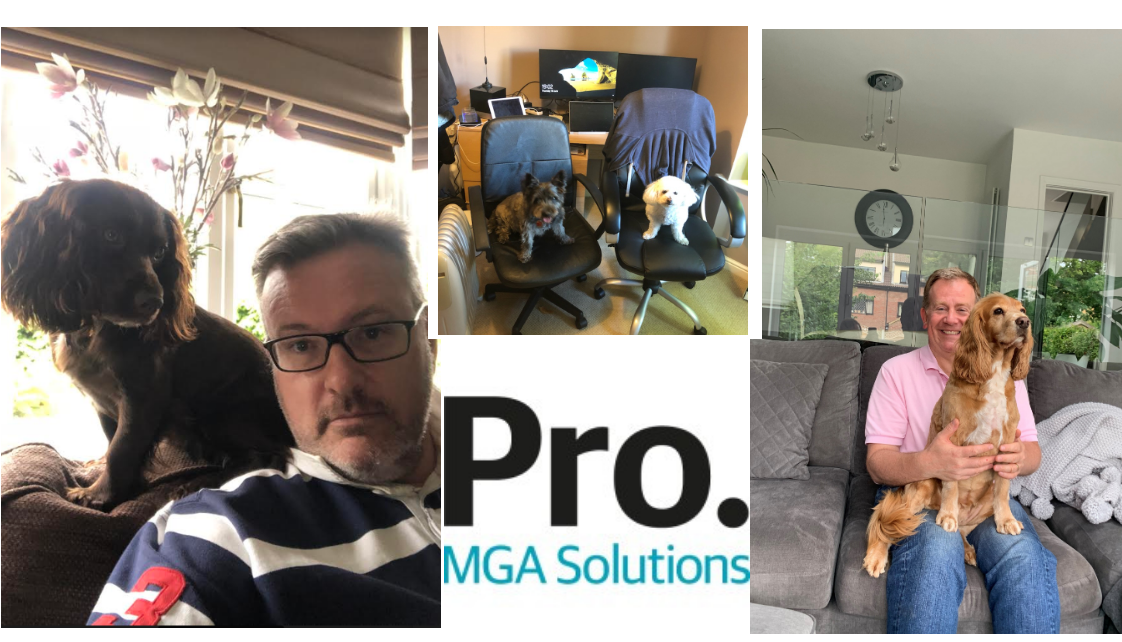 We had an early evening video catch up with the Pro MGA Solutions management team – CEO and Director of Business Development Danny Maleary; Head of Implementation and Claims Solutions Gordon Burrows; and Head of Operations and Relationship Management Shaun Linton – to find out how they are adapting to the new WFH normal.
So how has your day been?
Danny: It's looking up now! It's nice to have some down time, it has been non stop – quite intense. Back to back calls today with the global team.
Shaun: It's the same with everyone we're speaking to, busy days!
Gordon: Well the dog rolled in an awful substance during our morning walk, so my day started off badly! Since then it's been very busy, but also enjoyable – we've adapted well I think.
How are you finding conducting business from home?
Danny: I was always one of those people who was anti working from home, I was suspicious of it. Now it's pretty clear everyone can do it – all those concerns were a myth. Everyone is receptive to a call, and in some cases we're finding the C-Suite is more accessible in fact.
Shaun: Business is still getting done, deals are still happening. And Danny, Gordon and I talk a lot – we typically have a call first thing to plan the day, then catch up again in the afternoon to see where we are. There is so much going on and the market's moving so quickly, it's important to have that structure and discipline.
Gordon: It is a bit like the Brady Bunch on conference calls though, seeing everyone in their little squares looking up and down at each other.
What's your biggest distraction working from home?
Danny: I'm lucky to work in a separate part of the house, so really my distractions are eating too many biscuits and the cameo appearances by my dog on conference calls.
Shaun: It's too easy to wander into the kitchen and grab something to eat. Biggest challenge? The discipline, and by that I mean not spending all day looking at the screen, can't help myself. But my dog is a nice distraction at times!
Gordon: I'll second that! Nice to have the company of my dogs, but they've certainly noticed I'm at home a lot more. It's also a big help to be able to work in a separate room, and get that focus and concentration.
So all three of you have dogs? Let's see them!
Danny: This is Poppy she's a working cocker, very affectionate!
Shaun: Mine is a show cocker, Rolo, of course!
Gordon: This is my Scottish Terrier Mr.Bob, characteristically miserable. I also have a Bichon poodle cross, Jas – to cheer things up for the weekends.
What is the MGA business environment like right now?
Danny: Things are still moving so quickly – and it's a good sign. Pressure is being put on the MGA model and I think the highest quality business out there will find successful growth in this environment. Pro MGA Solutions closed a new client during lockdown, which was brilliant.
Shaun: Yes we met remotely of course and negotiated over video call, proving it can be done! Getting to know someone via video call alone is a new experience, and I think we're all looking forward to meeting in person at some point when it is safe for everyone.
Gordon: And this deal did close a lot quicker than a 'normal' process, I think that shows a real determination to move business forward and get things done under lockdown. The MGA market is still vibrant, there is a lot going on – some very significant and interesting proposals moving through the pipeline.
What lessons would you like to see learnt from this crisis?
Danny: I think where there are passionate and entrepreneurial teams with good ideas, there will always be success. I'd like to see more of a work / life balance taken forward, with remote working and hybrid remote / office working when possible. I also think it's really important to get a break from screen time all day every day – and that is a discipline we are still working on. We all need some down time too.
Shaun: I agree, Everyone seems comfortable and productive working from home, but I think the biggest lesson so far has been the critical role of technology in any business. We've had a couple of the smaller clients itching to get back into the City, while we've seen some larger MGA businesses struggle with the technology aspects of WFH. We're happy to advise, and will be guided by clients and corporate as to what we can or cannot do as opposed to what we might do.
Gordon: A lot of larger organisations struggled with the transition at the beginning, a lot have overcome those challenges, but a lot still have challenges. I think the key lesson for me from working from home is that if you're the right team, it doesn't matter where in the world you are – you'll be in the right place to make a difference and stand out from the crowd.